Hillsdale College - Dow Center Hotel, Rockwell Lodge & Conference Rooms
Discover how Quail Creek Resort, a renowned Gulf resort with a three-decade legacy,
overcame complex reservation challenges during a period of remarkable growth.
"We have about 36 hotel rooms nine conference rooms; we also help manage property up in northern Michigan called Rockwell Lake Lodge- which has about 10 hotel rooms and a restaurant on site. We've been using GraceSoft for just over two years and have had a fantastic experience"
Aaron Tracey
Hillsdale College
"I highly recommend Easy Innkeeping for its personal touch, dependability, and affordability"
Client Overview:
Hillsdale College, located in southern Michigan, manages the Dow Center Hotel, a premier accommodation facility with 36 hotel rooms and nine conference rooms. In addition, they oversee Rockwell Lake Lodge, a property situated in northern Michigan, offering 10 hotel rooms and an on-site restaurant. Aaron Tracey, the Hospitality Manager at the Dow Hotel and Conference Center, shares his positive experience using GraceSoft's Easy Innkeeping hotel management software.
Challenge
Before switching to GraceSoft Easy Innkeeping, Hillsdale College faced several challenges with their previous hotel software provider. These challenges included:
Lengthy waiting times for customer support.
A lack of responsiveness from their previous provider.
A desire for a more user-friendly and efficient system.
Solution
Hillsdale College decided to partner with GraceSoft Easy Innkeeping for their hotel management needs. Aaron Tracey and his team were impressed by GraceSoft's comprehensive solution, which addressed their specific requirements. The key features and benefits of the solution include:
User-Friendly Interface: GraceSoft's Easy Innkeeping software proved easy to use and learn, simplifying the management of both the Dow Center Hotel and Rockwell Lake Lodge.
Responsive Customer Service: One of the standout features of GraceSoft Easy Innkeeping was their exceptional customer service. With the Live Chat feature, Aaron and his team no longer had to endure long waiting times on hold. Instead, they received prompt responses within seconds, and any issues were resolved on the same day.
Efficiency and Reliability: The software's efficiency and reliability allowed the Dow Center Hotel and Rockwell Lodge to streamline their operations, resulting in improved guest experiences and increased productivity.
Golden Rule Philosophy: Aaron Tracey emphasized that GraceSoft's customer service team treats their clients like family, creating a strong and positive working relationship. This commitment to the "Golden Rule" philosophy ensures that clients feel valued and supported.
Results
By partnering with GraceSoft Easy Innkeeping, Hillsdale College achieved several key outcomes:
Enhanced Customer Service:

The Live Chat feature and prompt issue resolution have greatly improved the overall customer service experience.

Efficiency and Productivity:

The user-friendly software has boosted operational efficiency, enabling the staff to focus on providing excellent service to their guests.

Positive Relationship:

The strong bond between Hillsdale College and GraceSoft Easy Innkeeping reflects the "treat you like family" approach, fostering a long-lasting and supportive partnership.
Conclusion
Thanks to GraceSoft's Easy Innkeeping comprehensive hotel management software and unwavering commitment to excellent customer service, Hillsdale College has successfully transformed its hospitality operations through Aaron Tracey's leadership. With a user-friendly interface, efficient support, and a partner that genuinely cares, the Dow Center Hotel, Rockwell Lodge, and Conference Rooms are poised for continued success in the future. GraceSoft Easy Innkeeping truly treats its clients like family, making it a trusted partner for any organization seeking a comprehensive hotel management solution.
If you are considering a partnership with GraceSoft Easy Innkeeping, you can expect exceptional service, efficiency, and a collaborative relationship built on trust and respect, just as Aaron Tracey and Hillsdale College have experienced.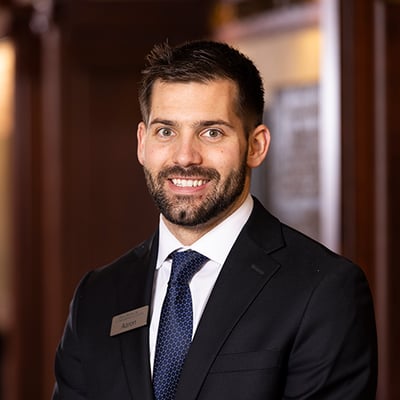 Aaron Tracey
Hospitality manager (Dow hotel and conference center)