Changing the way hotels do business - Using EasyInnKeeping

Pari
Using a comprehensive efficient system
This invaluable product was originally developed to manage bookings, guest charges, check-ins and check-outs, room inventory and availability, and rates, all on a single platform accessed via a hotel's computer system. Easy InnKeeping(EIK) has also interfaced with traditional hotel systems such as credit card terminals, keycards and phones. By providing a modern medium through which to connect and administer these fundamental operational tasks, EIK has done away with the disorganization, inaccuracy and inefficiency of paper-based methods.

And moreover, EIK has proved it's standards by interfacing with other dedicated systems—front- and back-office accounting, resort and package activities, housekeeping and GDS (global distribution system) connectivity.
EIK provides a single platform through which hotel staff can access, update and track all the relevant information concerned with the day-to-day function and well-being of the property, across all departments.
Using an Intelligible System
EIK is ever more user-friendly and intuitive. Even considering high rotation of employees, new staff are quickly and easily brought up to speed because of logical system navigation and streamlined user interfaces. The EIK Property Management Software product offers single-screen availability calendars (or "tape charts") from which reservation clerks can enter and change bookings, check guests in and out, assign rooms, access guest folios and more. Systems are becoming increasingly flexible in accommodating rate changes, packages and overrides. Data is more comprehensive, accurate and accessible, allowing for improved tracking and reporting, uncomplicated accounting, and ultimately, enhanced guest service and increased revenue.
Using a strategic System
Thanks again to enhanced data collection, tracking (and reporting) improvements and the progressively integrated nature of EIK (many of which boast integrated CRM and revenue management capacity or at least interface to these systems), hoteliers can really take advantage of heightened customer relationship and revenue management abilities. EIK has been playing a critical role in identifying and tracking trends, defining rate, availability management strategies, and balancing wear and tear on guest rooms, while guest data affords plenty of opportunities to personalize the guest experience. This means Hotels can do a smarter business.
Using an adaptable system
While an international resort with multiple properties spread throughout the world needs significantly more extensive functionality from their PMS than a charming five-room bed and breakfast, efficiency is essential to both properties. In order to maximize efficiency of use, a PMS must be scalable to fit property size and amenities. A "light" version of the system covering room reservation software and a web booking engine may be all the small bed and breakfast requires. EIK provides you just that. An adaptable EIK caters to a range of property types, without sacrificing efficiency.
Using a cutting edge system
A hotel has to have an online presence these days. EIK offers Web booking modules that can be integrated into the hotel's own website. Online reservations are automatically updated to the property's reservation records in the PMS, with a choice of automatic or manual confirmation settings.
Online booking modules can accommodate group bookings, packages and last-minute deals, and access to special rates for corporate and industry clients.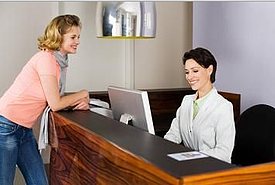 Today's PMSs also provide two-way GDS (global distribution system) interfaces, connecting hotels to major online distribution channels like Expedia and booking.com. Room availability and rates on the third-party website are kept up-to-the-minute via the connection to the hotel's PMS, and any bookings made through the third-party channel are automatically added to the hotel's reservation record.
But this is all old news, really. The latest trend is going mobile. Today's spontaneous travellers are searching for accommodation and making bookings on the go from smartphones, tablets and other mobile devices. And EIK is at no loss in fulfilling these trendy requirements.