Booking Software complete with Email Marketing Tool

Sarah Stanley
New Letter Editor Module, coming soon...
Easy InnKeeping booking software will be releasing an a new letter editor module that will allow our users to more easily create a high quality e-mail that can be used for communicating to your clients. The updated letter editor will give you functionality similar to what you find from other email marketing tools like Constant Contact or Mail Chimp. Easy InnKeeping reservation software offers the following benefits with it's current email marketing functionality.
Current Benefits
The benefit in using the current Easy InnKeeping email marketing tool, is that all your data is in one system. You do not have to mess around with downloading and uploading contact lists. Instead, you are able to easily use the bulk e-mail filter to determine who will receive your letter, create auto emails, and complete your necessary individual emailing requirements.
3 Ways to send Email
1. The bulk e-mail function is a great way to introduce your client base with promotions of packages, on-line booking deals, and special promotions that can include a call to action connecting your client directly to your Easy WebRez on-line booking software.
2. The auto e-mail function can be used to increase customer satisfaction and TOMA (Top-of-Mind-Awareness). The auto e-mail function, allows you to send out a pre-check in letter (*x's) days before arrival, a thank you e-mail letters (x's) days after check out, happy birthday & anniversary greetings, and a 6 or 12 month e-mail reminding them of their visit to your property. Using these different options help you build Top-of-Mind-Awareness among your customer base encouraging them to think of you the next time they are planning a get away.
3. The Individual E-mail function can also be used to complete your necessary individual emailing with your clients (example: confirmation, deposit e-mails, and etc.).
Value of Service Report
The Value of Service report in Easy InnKeeping provides you with valuable information about the use and effectiveness of both the email marketing tool and the on-line booking engine, GDS bookings, and your overall reservation totals for any given month.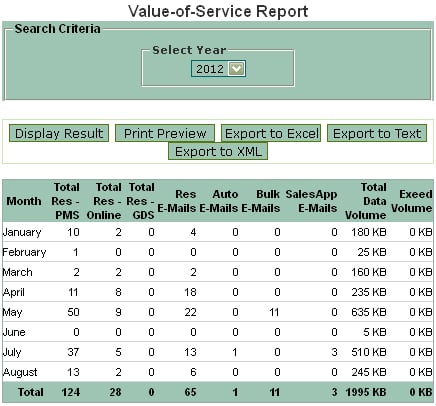 We will be releasing details of the New Letter Editor Module in the near future, stay tune for more updates. The New Letter Editor will also be included in our Web-based E-Connect CRM (Customer Relation Software).