Hotel Property Management System: What is it, and How can it help your property?

GraceSoft team

what is a hotel property management system (PMS)
A hotel property management system (PMS) is a software application that helps businesses manage their operations, including reservations, guest check-in/check-out, room assignments, housekeeping, and billing. PMS systems are often used with other hotel software applications, such as point-of-sale (POS) and accounting systems.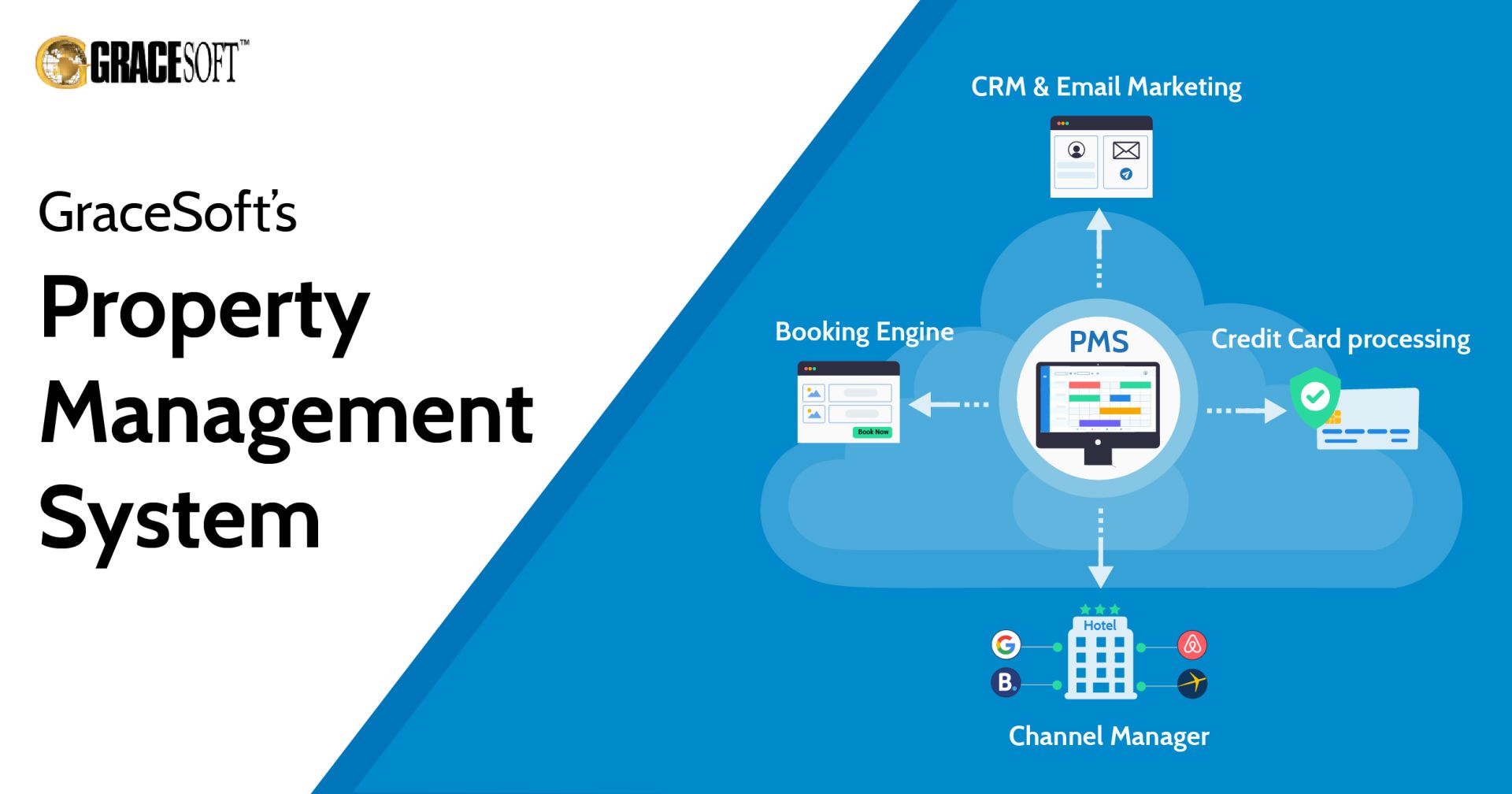 Why cloud-based hotel property management?
Cloud-based hotel property management systems are becoming increasingly popular among hotels. There are many benefits to using a cloud-based system, including that you don't need to download any software. All you need to do is log in with your credentials and carry on with your daily work. Another benefit is that cloud-based systems are typically more cost-effective than traditional on-premise systems. In addition, cloud-based systems are often more scalable than on-premise systems, which can grow with your business. So if you're thinking about switching to a cloud-based hotel property management system, there are many reasons.
It is more convenient and easier to use. You can access it from anywhere in the world as long as you have an internet connection.
It is cost-effective.
It is more scalable and flexible.
It is more secure since all data is stored off-site on a secure server.
Finally, it offers better disaster recovery capabilities since all data is backed up on a remote server.
Features
Dashboard
The dashboard is commonly used in hotels to track important metrics such as profit or revenue, number of customers, sales goals, etc. These data are displayed on the dashboard in various ways, including charts, graphs, and tables. By tracking these key performance indicators (KPIs), hotels can better assess their progress toward meeting specific goals and make more informed decisions about improving their performance. Additionally, dashboards offer an easily accessible way for all employees within a company to stay informed about current business trends.
Channel management
You must use a Channel Manager to sell your inventory to multiple online distribution channels and ensure that information is updated in real-time from and to your property management system. This tool will enhance your online visibility, thereby increasing reservations and profit. However, you must ensure that the Channel Manager is fully integrated with your PMS to control your inventory and prevent overbookings.
By streamlining the process of managing distribution channels, a Channel Manager helps hotels achieve better results online and ultimately makes it easier for customers to book their stays at your hotel. So, if you want to grow your business and stay competitive in today's dynamic market, then an all-inclusive Channel Manager is exactly what you need.
An easy to use the calendar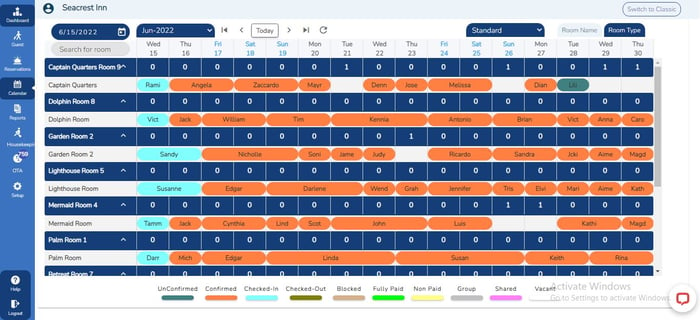 A calendar is a powerful tool for visualizing and managing your reservations. You can gain valuable insights into the status and availability of your booking schedule. With an organized, clear calendar at your fingertips, you have an invaluable resource for unlocking every possibility in your reservation schedule!
Housekeeping module
An effective PMS will automate several tasks related to housekeeping. One such task is generating reports on which rooms need to be cleaned or tidied up. This is essential for ensuring that guest rooms are always ready for arrival. Your PMS provider should have a detailed understanding of the cleaning requirements for each room type. This way, they can generate accurate reports that will help keep the property running smoothly. In addition, the PMS should also be able to track when each room was last cleaned. This information can create housekeepers' schedules and ensure that all guests enjoy a clean and comfortable stay.
Payment processing
Payment processing is an essential part of any business. This process involves transferring funds from one party to another, and it typically involves several steps. Payment processors use special software to ensure that all payments are processed quickly and securely. Payment processing is an important part of any business, and it is important to choose a reliable and efficient processor.
GracePay-Introducing GracePay, a new payment facilitator from GraceSoft. It offers hoteliers of all sizes and types a secure and easy way to process payments in more than 46 countries. GracePay offers a complete payment processing solution, from managing transactions to issuing refunds, all in one place. With GracePay, you can rest assured that your payments are processed quickly and securely, giving you more time to focus on running your business.
Report
Your property management system should have built-in reporting functionalities. Reports are one of the core PMS functionalities and are the best way to take your property to the next level. PMS provides you with key insights about your business, such as your average daily rate, length of stay, etc. With this data, you can make better revenue management and marketing decisions. PMS also offers reports on areas such as housekeeping and maintenance so that you can identify any operational issues. If you're not using reports to improve your business, you're missing out on a valuable tool.
We believe reports and knowledge are the best way to take your property to the next level. Your property management system should have built-in reporting functionalities that allow you to generate the reports you need to make informed decisions about your property's future.
With the right PMS in place, you'll be able to unlock the true potential of your business and take it to the next level. With over 90 reports, you can gather valuable information to help you make informed decisions and make strategic choices.
Night Audit reporting is an important part of the hotel industry. Hotel managers are responsible for ensuring that the property is well-maintained throughout the night and that all employees perform their duties timely and efficiently.
Online Booking Engine
An online booking engine is a software application that enables hoteliers to accept reservations directly through their websites. It's a tool that allows customers to book reservations or appointments online 24 hours a day. Hoteliers who have their website and use an online booking engine can increase their bookings by 30%. This can be a great convenience for both customers and businesses.
In addition, online booking engines often allow customers to see real-time availability to choose the most convenient time for them. Many hotels use online booking engines in conjunction with their existing website, making it easy for customers to find and use the booking feature. Others use stand-alone booking engines that can be integrated into any website. Whichever option you choose, an online booking engine can be valuable to your business.
Guest management
In hotels- that rely on a steady stream of customers, guest management is essential. A comprehensive CRM system allows you to track your guests' data and interactions, providing an organized and efficient way to communicate with them. Additionally, effective communication ensures that guests receive the information and services they need, reducing any sources of frustration for both parties. So, if you're looking to boost your business through effective guest management, invest in the right CRM tools and strategies today.
Integrated PMS and POS are better together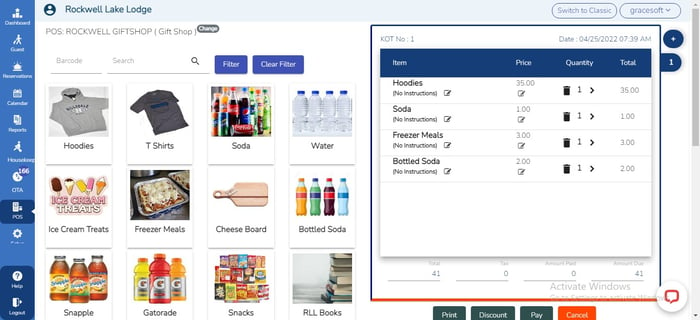 Property management systems (PMS) and point of sale (POS) systems are vital to the smooth operation of any business. A PMS manages room Reservations, guest check-in/check-out, and housekeeping operations. In contrast, a POS system manages food and beverage orders, tracks inventory, and processes payments. However, these two systems often operate independently, leading to inefficient operations and inaccurate billing.
A simple automated interface between the PMS and POS system can save hoteliers time and improve billing accuracy. Hoteliers can save time and improve billing accuracy by automatically sharing data between the two systems. This, in turn, enhances the guest experience and prevents lost revenue. With data integration, the PMS and POS systems are perfect partners.
Thanks for reading. Let us help guide you through this process and find the perfect platform to manage your property. Have questions about specific PMS software or want recommendations? Please shoot us an email or leave a comment below.