How to build a 'branded' web site for your hotel

Sarah Stanley

Three decades after AOL began, the internet has fundamentally transformed the way guests look for and book their airline tickets, car rentals and lodging. The hotel that continues to depend upon travel agent platforms, will undersell their valuable property. The internet still provides a cost effective way to create an experience that guests can see, appreciate and finally purchase!
In the late 1990's the bed & breakfast sector of the hospitality industry began to leverage the internet to their advantage. The internet's ability to provide targeted searches was actually a boost for the unique bed & breakfast properties. These small 'mom and pop' establishments trumpeted every distinctive amenity from breakfast menus, to art collections and antique furniture. The same approach that helped bring bed & breakfast properties to the mainstream will help any Hotel market an attractive profile for the online visitor.
Any general manager who knows their property, location, specialties, staff and guests can use some common sense, and a few simple tools to create an effective 'branded' hotel web site.
First, let's define the basic ingredients for building a great story on your web site.
Location. Certainly every hotel web site has a page with directions and map image. However, this page can easily be linked directly to search options, the most popular being GoogleMaps.
Be sure your location is updated to refer to GoogleMaps. This is very simple to do, just follow the instructions on http://www.google.com/business/placesforbusiness/ .
If you already have a Google + or AdWords account, you can use the same account to update GoogleMaps.
Architecture / Property Profile
In everyday language, someone at the property needs to take on the responsibility of becoming a 'Storyteller,' and creating an engaging and informative site that makes it easy for visitors to book their rooms.
Do some research about when the hotel first opened, or about the latest renovation and what it entailed.
Interview long time employees or previous owners, and see what kind of stories may emerge! Perhaps there have been some famous guests, or unique seasons such as providing housing for hurricane evacuees.
Tell a story about your location and special events throughout the year.
Rooms and Amenities
In addition to the standard photos of room types, lobby and hotel entrance, think about ways to display what is distinctive about your property.
Add some artistic photos that perhaps shows a balcony view, rooftop view, pool, exercise room, or a restaurant table set with a great meal.
Consider having staff pose for some photos to give a warmer, personal touch.
Feature any specialty rooms or suites, such as an Honeymoon Suite with its own photos.
Highlight any type of amenity that attracts business. If your conference rooms are popular for local businesses, include photos of meetings in session or special events.
Hotel Reservation Software
The Hotel software you select must fulfill several requirements.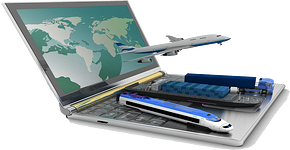 Be careful to purchase a booking engine that shares ALL guest information with your property. The best way to retain and build your own database of guests, is to have a booking engine that will send guest details directly to your property's PMS.
Booking engine should be easy to manage and update, ideally should be seamlessly connected with your PMS and travel agent.
Booking software should automatically update your GDS and OTA accounts, and reduce your administrative cost in managing online bookings.
Editorial
The latest marketing tools known as 'social media' thrive on new and fresh content. This is where a property that wants a 'branded' web site, must commit to creating articles on a frequent basis. Send link, CEO of Design Hotels said, "Everyone likes to write about new hotels but after it's open, so what's next? So I think we all agree that the key in the future [of hospitality] is absolutely content for multiple reasons" (Design Hotels' New Website Turns to Storytelling to Build the Brand. Greg Oates).By using a content management system, a property can keep their 'branded' site fresh and sell rooms at full and added value. Here are a few ideas to keep new content coming.
Think of it your site as a weekly newsletter to your guests!
If you have a restaurant, post new menu items or occasional recipes.
Have someone with a bit of writing talent interview the GM once a month and report on upcoming events at the property or in your location.