Email Options in Easy InnKeeping

Benjamin Deist
Communication with your guests is very important, especially for the guest during the reservation process, but also for you, the property owner/manager/staff. Email is a quick and efficient way for hotels, motels, b&bs, resorts, and other properties to send confirmation letters, invoice letters, or deposit receipts to their guests. Reminders for upcoming reservations as well as thank you letters following a guest stay can also be sent. Previous guests can be sent monthly newsletters or upcoming promotional offers.
Having a choice in how emails to your guests are sent out gives more versatility to the small business owner. In our Letters menu, Easy InnKeeping includes several pre-formatted letter templates. With the addition of the property letterhead logo, these basic templates are enough to get you started in sending out emails to your guests. However, these templates are customizable, and doing so allows the property owner or management to better personalize the letters that are sent to guests. New letters can also be created very easily.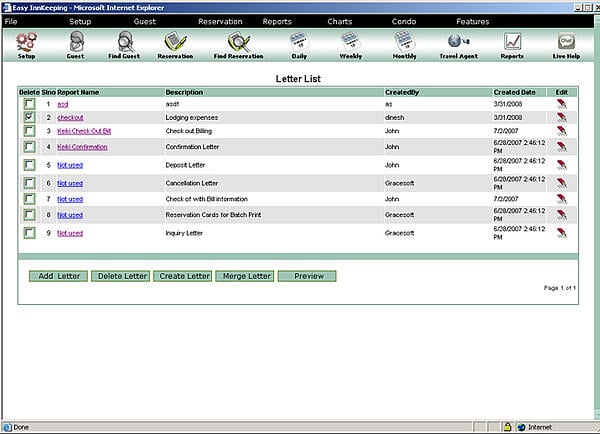 There are several ways to send emails through Easy InnKeeping. Using the Letters feature found in the reservation screens, a hotel, motel, or vacation rental management company can send a specified letter to guest whose reservation they are looking at. Auto Email can also to set up, to send emails to all guests, at specified times as related to their reservation. A third option, sending out Mass, or bulk, Email is useful for those times when you want to reach all your guests, including those who have previously stayed at your property, but it's not something you want to schedule to send based on guest reservation information.
Look for upcoming posts explaining exactly how to send out Mass Emails or Auto Emails, coming to a blog near you.