What is Hotel Reservation Software and Why it is Important?

GraceSoft team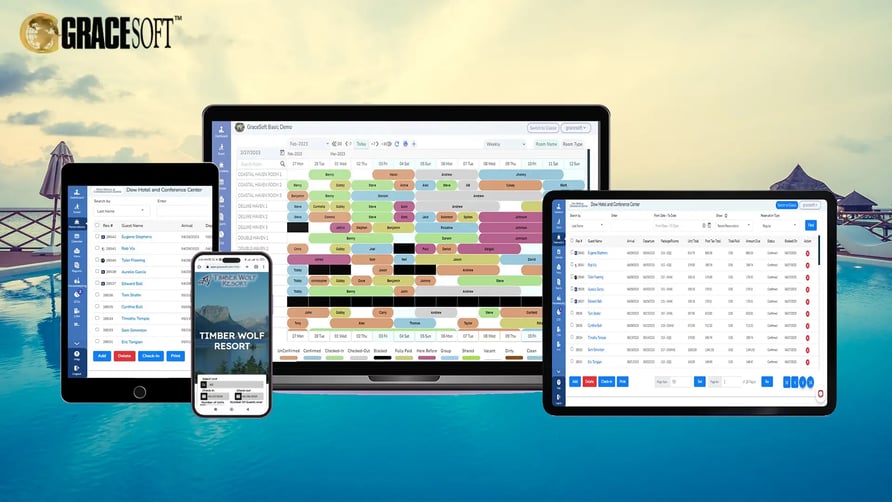 Effective management of reservations and bookings is essential for hotels to remain competitive in the hospitality industry. This is where hotel reservation software comes into play. In this article, we'll discuss what hotel reservation software is, why it's important, how it works, its benefits, key features, and why GraceSoft Easy Innkeeping is an excellent choice for hotels.
What is Hotel Reservation Software?
Hotel reservation software is a computer-based application that enables hotel staff to manage reservations, bookings, and other essential hotel operations. It is a type of hospitality management system that allows hotels to manage their operations more effectively. The software automates many processes, such as checking room availability, room rates, room inventory, guest details, and more. The software makes the reservation process much easier, faster, and more efficient than traditional paper-based methods. It can also be integrated with a hotel property management system (PMS) to manage all aspects of hotel operations.
Why is Hotel Reservation Software Important?
Hotel reservation software is important because it simplifies the reservation process, making it faster, more efficient, and less prone to errors. It also offers a range of features that allow hotels to manage their operations more effectively, such as real-time room availability updates, guest information management, and automated payment processing. In short, hotel reservation software is crucial for hotels to remain competitive in today's fast-paced hospitality industry.
How Does Hotel Reservation Software Work?
Hotel reservation software typically operates on a cloud-based platform, which means that data is stored on a remote server that can be accessed via the Internet. The software usually includes a user-friendly interface that makes it easy for hotel staff to manage bookings and reservations. The software enables hotels to manage their operations in real time, which means that they can keep track of room availability, occupancy rates, and other essential data.
Benefits of Hotel Reservation Software
Using a hotel reservation system can bring several benefits to hotels, such as:
1. Streamlined Reservation Process: Hotel reservation software automates many processes, making booking faster and more efficient.
2. Reduced Errors: The software eliminates manual errors, which can improve the accuracy of hotel data and reduce the risk of double bookings.
3. Improved Communication: The hotel reservation system allows hotel staff to easily communicate with guests and other departments.
4. Better Guest Experience: With the software, hotels can offer a more personalized guest experience, which can lead to increased guest satisfaction and loyalty.
5. Integration with OTA: Hotel reservation software can be integrated with online travel agencies (OTA) to increase visibility and attract more bookings.
Why Choose GraceSoft Easy Innkeeping Hotel Booking System?
GraceSoft Easy Innkeeping is a comprehensive hotel reservation system that offers a wide range of features to help independent properties manage their operations effectively.
Easy-to-use interface for hotel staff
Real-time updates on room availability and rates
Cloud-based platform accessible from anywhere, anytime
Integration with popular OTAs like

Airbnb, Google, Booking.com, and Expedia

to increase hotel visibility and bookings
Improves hotel operations, leading to

increased revenue

and customer loyalty
Provides a better guest experience through personalized service and communication.
Integrated Payments such as

Stripe, Square, Authorize.Net, PayStack, and Cashfree & shift 4

. (Includes

GracePay

: our own payment processor guaranteed lowest pricing nationwide)
Streamline communication and improve guest satisfaction: With the new Unified Inbox, answering your guest questions has never been easier. You can

centralize all communication from booking channels to email and SMS messages

by checking them in one place--your GraceSoft inbox!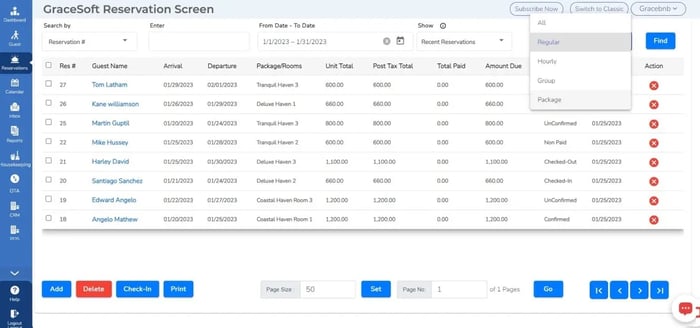 Streamline Your Reservation Management with GraceSoft Easy Innkeeping
Many Types of Reservations: Easy Innkeeping hotel PMS software can accommodate many types of reservations, such as

monthly reservations, and hourly reservations

which are commonly used by SPAs, package bookings, group bookings, and more.
Easy Innkeeping hotel PMS software makes it easy for hoteliers to

manage all your bookings in one central place with color-coordinated statuses

. The PMS reservation calendar enables users to manage all reservations on a single screen.
Our new design incorporates all the old Quick/Full/Billing screen features but with a consolidated view. You can also use the

Group Booking option to block rooms and reserve multiple rooms under a single invoice

. Creating a new group is simple from either the Reservations or Calendar screen.
With our filtering options, you can

easily search for reservations based on names, dates, check-in, check-out, cancelled, and booked status

. Additionally, the package booking setup feature allows you to build combinations of room stays and other items, such as food, into a package that can be given as a single item to the guest.
Our software also includes

Auto Email & Auto Text/SMS features

, allowing you to send emails, and text/SMS messages automatically to guests when a reservation has been made.
Do you want to simplify your reservation process?