What is a channel manager?

GraceSoft team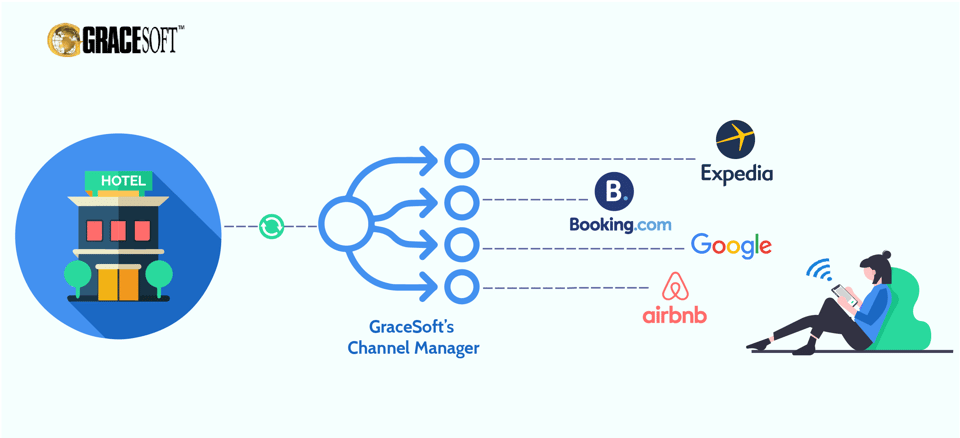 Channel manager is a software that enables hotels to successfully manage and distribute their inventory across multiple online travel agencies (OTA). In other words, it allows hotels to have full control over their rates and bookings while simultaneously increasing their reach to potential guests.
Hoteliers can save time and effort by managing all their channels from one central platform by using a channel manager. In addition, a channel manager can help to ensure that rates are consistent across all channels and that rooms are always available to occupy. Channel manager helps hotel owners update their rates and inventory on OTAs in real-time, ensuring that they are always in sync with their website.
Why should hotels use a Channel Manager?
As the hospitality industry has become increasingly competitive, it is more important than ever for hotels to have a strong presence on various OTAs. A channel manager helps to ensure that a hotel can list its rooms on multiple OTAs (Airbnb, Google Hotels, Booking.com & Expedia) without updating each one manually. This saves the hotel time and resources and allows them to dynamically adjust their rates in real-time based on changes in occupancy or demand.
Importance and Advantages of Channel manager.
The channel manager automatically distributes room availability and pricing information across all OTAs, making it easy to manage your property's inventory and rates across multiple platforms. Perhaps the most important advantage of using a channel manager is that it can help you increase your property's visibility and reach a wider audience of potential guests by connecting your property to multiple OTAs.
This ensures that your listing is seen by many potential guests, which helps in increased bookings and revenue.
How GraceSoft's Channel manager can help your hotel run smoothly?
GraceSoft's Channel Manager is designed to help businesses stay organized and efficient while also providing the tools necessary to compete in the ever-changing travel landscape. With GraceSoft's Channel Manager, businesses can easily update inventory and rates across all channels and manage bookings and reservations. In addition, it provides valuable insights into customer behavior, helping businesses better understand their target market. As the travel industry evolves, this will help your business stay ahead of the competition.
By understanding channel managers and how they work, you can create a more effective strategy for your company. Thanks for reading!