The Ultimate Guide to Hotel Front Desk Software

GraceSoft team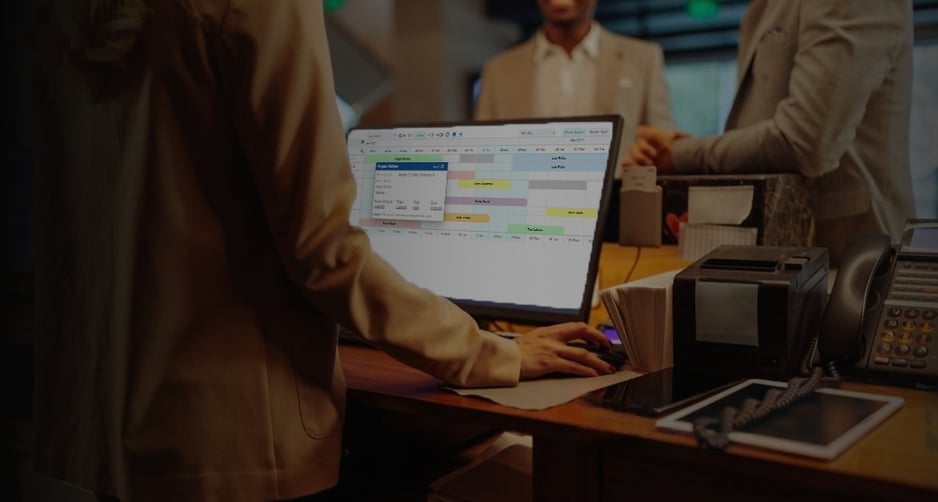 The hospitality industry is an ever-changing field, and it's crucial to adapt to the evolving needs of guests. A seamless experience for guests is essential, and this can be achieved through efficient front desk operation. This is where Hotel Front Desk Software comes into play. This comprehensive guide covers everything you need to know about Hotel Front Desk Software, including its various types, features, benefits, and factors to consider when selecting the right solution for your property. We will also explore how modern front desk systems operate and introduce you to the top 10 hotel front desk software systems in 2023, with a special emphasis on GraceSoft Easy Innkeeping.
What is Hotel Front Desk Software?
Hotel Front Desk Software is a Property Management System (PMS) tool that efficiently automates front-desk and back-office operations of hotels, resorts, and other lodging establishments. It serves as a central hub for managing guest reservations, check-ins, check-outs, room assignments, billing, and much more. The software streamlines daily tasks and effortlessly enhances guest satisfaction. In essence, Hotel Front Desk Software is an indispensable tool for the hospitality industry, enabling hoteliers to seamlessly meet their guests' needs.
Front desk software functionality can be divided into different phases of interaction with a guest to provide a more detailed understanding of how it enhances the guest experience and operational efficiency: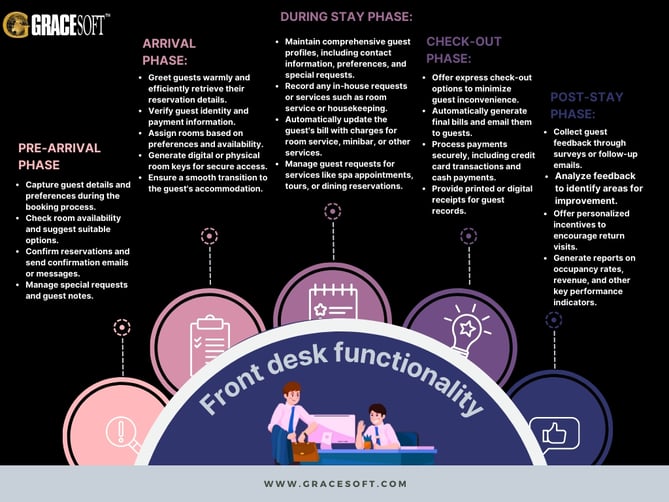 Types of Hotel Front Desk Software:
There are several types of Hotel Front Desk Software tailored to different types and sizes of lodging establishments. Common types include:
Cloud-Based PMS: These systems are hosted in the cloud, offering flexibility, scalability, and accessibility from anywhere with an internet connection.
On-Premises PMS: Installed on local servers, on-premises PMS provides complete control but requires more maintenance.
Mobile PMS: Designed for mobile devices, these apps enable staff to manage front desk operations on the go.
Features of Hotel Front Desk Software:
Hotel Front Desk Software offers a wide range of features, such as:
Reservation Management: Efficiently handle reservations, check-ins, and check-outs.
Room Assignment: Assign rooms based on availability and guest preferences.
Billing and Invoicing: Generate bills, track payments, and manage invoicing.
Guest Profiles: Maintain detailed guest information for personalized service.
Inventory Management: Manage room inventory, rates, and promotions.
Reporting and Analytics: Access real-time data and insights for informed decision-making.
Benefits of Hotel Front Desk Software:
Implementing Hotel Front Desk Software brings numerous advantages:
Improved Efficiency: Streamline operations and reduce manual tasks.
Enhanced Guest Experience: Offer faster check-ins, personalized service, and quicker issue resolution.
Accurate Billing: Minimize billing errors and discrepancies.
Real-time Data: Access up-to-date information for better decision-making.
Factors to Consider When Choosing Hotel Front Desk Software:
Selecting the right software is crucial. Factors to consider include:
Property Size: Ensure the software suits your property's size and needs.
Integration: Check if it integrates with other systems like accounting and channel managers
Usability: User-friendly interfaces are essential for staff efficiency.
Cost: Evaluate the total cost of ownership, including licensing, support, and training.
How to do Modern Front Desk Systems Work?:
Selecting the right software is crucial. Factors to consider include:
Streamlining Front Desk Operations: Modern front desk systems, also known as hotel front desk software or property management software (PMS), automate and streamline various front desk operations.
Key Features: These systems include essential features like:
Reservation Management
Guest Profiles
Room Status Updates
Room Rates and Rate Management
Occupancy Tracking
Payment Processing
Real-time Notifications
Integration Capabilities: Modern front desk systems often integrate with other systems, such as:
Cloud-Based Accessibility: Many systems are cloud-based, allowing access from anywhere and on any device, including mobile devices.
Additional Features: Common features include:
Customizable Templates
Credit Card Processing
Payment Gateways
Integration with Online Travel Agents (OTAs) like Airbnb, Expedia, and Booking.com
User-Friendly Interfaces: These systems prioritize user-friendliness with easy-to-use interfaces and workflows.
Customer Support: Typically, they offer various customer support channels, including phone, email, and live chat.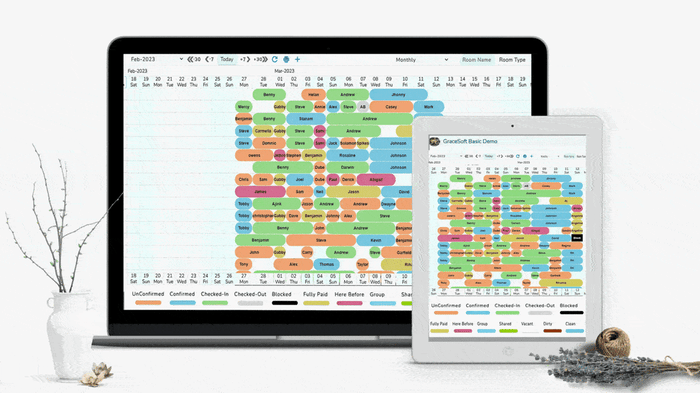 GraceSoft Easy Innkeeping Hotel PMS
Top 10 Hotel Front Desk Software Systems in 2023:
In 2023, several outstanding hotel front desk software systems are making waves. Here are the top 10 hotel front desk software systems
GraceSoft Easy Innkeeping: Easy Innkeeping was founded in 1999 and offers tailored services for small to medium-sized hotels, B&Bs and vacation rentals. They provide customizable features that can be tailored to meet the specific needs of each hotel. These features include customized email templates, text message options, housekeeping checklists, custom reports, and more.
Cloudbeds: Known for its user-friendly interface, Cloudbeds is a cloud-based platform suitable for independent hotels, hostels and B&Bs. It provides features for reservations, guest management, channel management, and revenue optimization.
ResNexus: Founded in 2004, ResNexus is a property management system that specializes in helping boutique hotels, bed and breakfasts and inns manage their reservations, guest interactions and operations. It offers a range of features to streamline booking processes and enhance guest experiences.
ThinkReservations: ThinkReservations makes it easy for you and your staff to manage a high-end independent bed & breakfast, boutique hotel, or property group. The platform automates and simplifies day-to-day business operations, providing users with comprehensive capabilities to make data driven decisions!
Maestro PMS: Maestro PMS offers a flexible suite of modules for front desk operations, reservations, guest experience management, and more. It caters to independent hotels, luxury resorts, and multi-property groups.
Little Hotelier: Founded in 2012, Little Hotelier is the perfect platform for small hotels. specifically made for small establishments like bed and breakfasts, inns, motels, guesthouses, vacation rentals, hostels, motels, pubs, cabins and camping accommodations.
Mews: Mews is a cloud-based PMS with a focus on innovation. It caters to various types of accommodations, including hotels and hostels, and offers features for reservations, guest engagement and operations management.
OPERA: A widely recognized and comprehensive PMS catering to various types of hotels and properties. It offers a range of features, including reservations, guest profiles, front desk operations and housekeeping management.
WebRezPro: A cloud-based PMS known for its features in reservations, guest management and online bookings. It aims to streamline hotel operations and enhance guest experiences.
innRoad: Founded in 2007, innRoad is designed to provide user-friendly solutions for managing operations in smaller hotels and independent properties.
Why Opt for GraceSoft Easy Innkeeping?
Proven Industry Experience: With a legacy of serving the hospitality industry since 1999, GraceSoft brings extensive experience and expertise to your property's management needs.
User-Friendly, Cloud-Based PMS: GraceSoft Easy Innkeeping offers a user-friendly, cloud-based Property Management System (PMS) that provides convenience and flexibility in managing your property.
Commission-Free Hotel Booking Engine: Benefit from a commission-free hotel booking engine that enables you to maximize revenue by accepting direct bookings without the burden of third-party commissions.
Efficient Guest Messaging: Easy Innkeeping provides a unified inbox for guest messaging, streamlining communication with guests and enhancing their overall experience.
Integrated Hotel Payment Processing Solution: Simplify financial transactions with an integrated hotel payment processing solution, ensuring secure and seamless payment handling for both you and your guests.
Real-Time Channel Managemen: GraceSoft's channel manager ensures two-way real-time availability and pricing updates, ensuring your OTA listings on platforms like Booking.com, Expedia, Airbnb, and Google remain accurate—without the burden of commissions.
In conclusion: To optimize operations and provide excellent service, hoteliers must have Hotel Front Desk Software on their properties. Selecting software that caters to their property's specific needs guarantees precision, efficiency, and an overall better guest experience. GraceSoft Easy Innkeeping is a great option to consider in the highly competitive hospitality industry.
Learn how GraceSoft Easy Innkeeping can help you eliminate manual front desk processes.