How your Facebook page can serve as your Hotel front desk

Jerome
It's almost 2017! As we mark the end of another year, we realize how quickly things can change. Social media is one powerful medium that has changed how we communicate!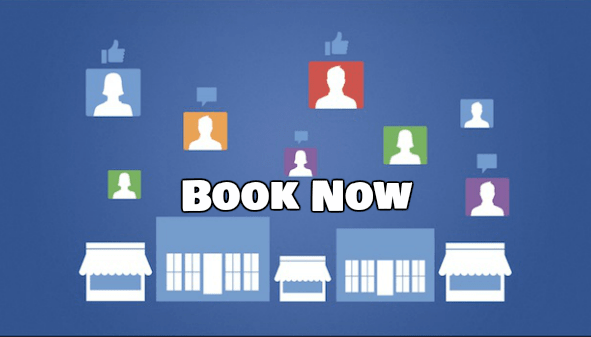 Social media has changed how we keep in touch, how we share our lives, how we learn new things and how businesses interact with customers. Mark Zuckerberg, CEO of Facebook announced in 2006 that the Facebook news feed would contain stream of stories that would personally interest the user.
"Our goal is to build the perfect personalized newspaper for every person in the world..."
- Mark Zuckerberg, CEO, Facebook.
Did he succeed? Most definitely! According to a New York Times article, about 30 percent of adults in the United States get their news on Facebook and it drives more than 20 percent of traffic to news sites as well, making it one of the best places to promote products and services. And with the help of the Facebook's call-to-action buttons which was introduced by the end of 2014, Facebook users can now directly sign up, chat, book or subscribe for a service. To make use of this free feature all you need is a Facebook account which again is free and a Facebook page for your Inn / Hotel / Motel / B&B.
Creating a Facebook page for your Inn / Hotel / B&B
If you already have a facebook page for your property, Click here to skip to the steps for setting up the Book Now button
If this is going to be your first step into social networking for your business I would recommend you to start with Facebook. The two solid reasons for doing this would be:
Facebook interface is user friendly. You won't get lost.
It is the largest social network platform (over 1.9 billion users).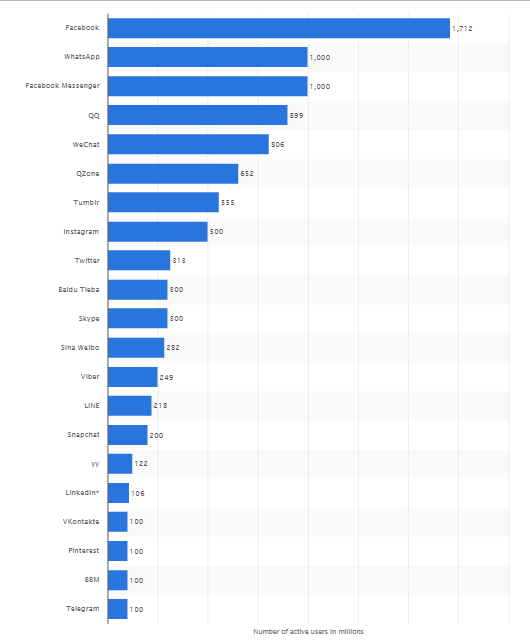 Source: Statista
After signing into Facebook, you will land on the the home page which has the 'What's on your mind?' textbox, news feed and the messenger on the right extreme. To create a new page, click on the drop down arrow on the top right corner of the screen.

From the drop down menu, click Create Page.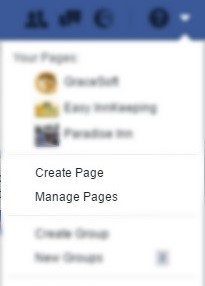 Once you click Create Page, Facebook lets you choose a category. In our case, it's Local Business or Place. Click it.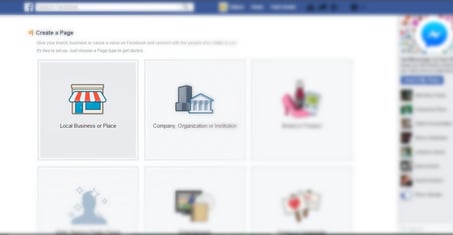 From the drop down menu that appears, choose a category. Hotel or Hotel & Lodging would be apt.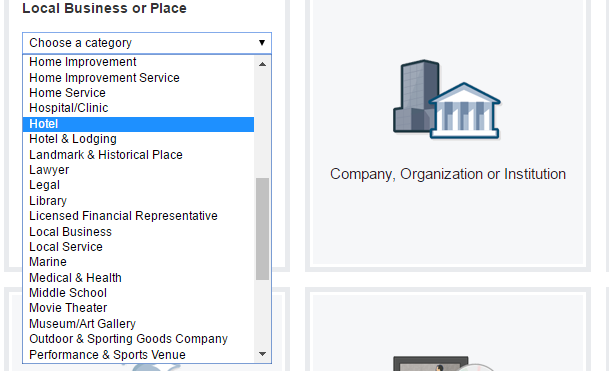 After choosing a category, name your page. I am going to name it after my property, Paradise Inn.

And viola! Your page is live. Add a display picture and a cover image by clicking on the respective regions and choosing the image file from your computer. To grab the user's attention, add some compelling photos of your property.
Adding contact information
Now that you have a Facebook page setup, users can glance, like and share its content. Users who are interested in reaching out to you will look for your contact details which you can display on that same page.
To add contact info, click the More drop down button below the cover image. Click on Edit Page Info and fill up the text boxes with relevant information. The added contact info will get displayed under the About us section.
In order to let Facebook users directly make a reservation, you need to set up the call-to-action (Book Now) button.
Setting up call-to-action button
Click on '+ Add a Button' below the cover image and choose the button to be displayed.

In our case, we will be choosing Book Now.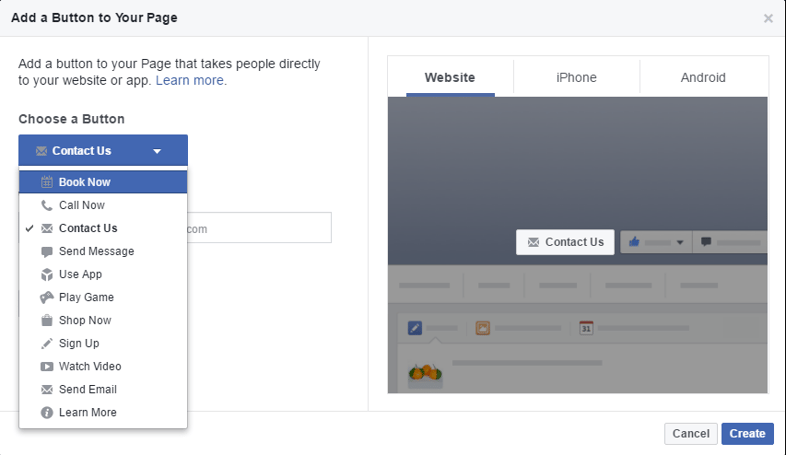 Add the link to your property's reservation page on the text box below and click Create. Now your page viewers can make a reservation by clicking the Book Now button on your Facebook page.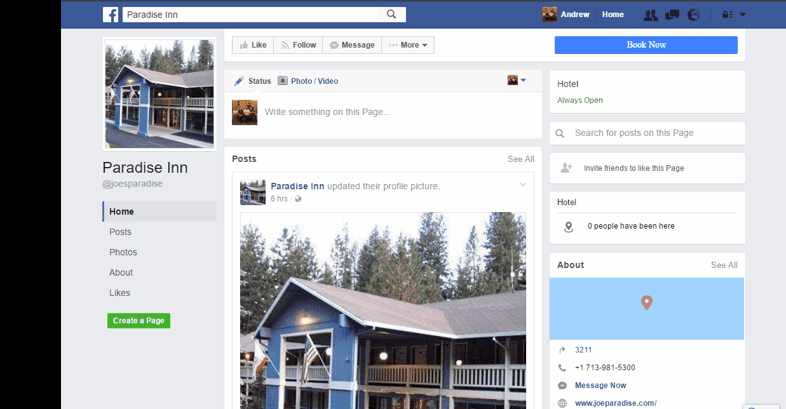 You can write to us at support@gracesoft.com to learn more about the online reservation widget which is seamlessly integrated with our property management system.
You can also sign up for the fully functioning free trial to see if our property management system would suit your needs. Sign up now for a free trial.