Easy InnKeeping (EIK) 8.3 Release

Sarah Stanley
I'm excited to announce some of the new updates to the Easy InnKeeping software and to mention some of the future changes that we are planning to add to Easy InnKeeping in the near future.
We love the feedback we get from you the user about our software solutions. Please let us know what you think about these new updates.

New Features/Functionality

Updates to your Invoice: We have worked on a few updates that relate to the invoice for your guests. We have heard your feedback about wanting to be able to add a logo to the invoice and being able to send the invoice through email. Both of these features are now available in your software.
Adding Logo to Bill

has a two-step process. First, you will click on the "Setup" menu and select "Property Information", click on "Modify", and then use the browse feature located next to "Upload Property Logo" and click save. Next, click on "Features" and select "Option Settings". The first section of this page will display your "Billing Settings" and you will need to select "yes" after "Show Property Logo". Now the image will appear in the upper left corner of each bill you generate.
Emailing the Bill is finally here. Many of you have been asking for this feature. When you open the billing screen, you will now notice a new button "Send Mail" between the Print and Close button. Simple click "Send Email" and an invoice email will be generated for your review. You will notice a "Message Body" section. This allows you to add an additional message to any electronic invoice you send.
Guest Image that was added on the Easy InnKeeping 8.2 release was received with a mixed response. Some of our users were excited, well others are voiced not needing this feature. Again, based on your feedback, we have added an option under "Option Setting" found under "Features" to turn this on or off.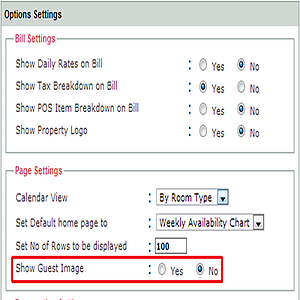 Database Optimization, currently we are analyzing our database structure to find ways to optimize the speed of the software for both Easy WebRez (online booking engine) and Easy Innkeeping (Property Management Software). This will be an ongoing project that will take many months as we review many different areas of the software database. We did include a few background changes that will slightly increase the speed of Easy WebRez. You will be noticed, more updates regarding this project in the future.
Tool Tip update, we have added the number of guests to be listed on the tooltip that appears when you mouseover any reservation from any one of the calendar screens. The tooltip now includes the Guest Name, Reservation ID, Amount Paid, Amount Due, Guest Image, and now the "No of Guests".
Online Shopping cart is a feature that is getting more use from you our clients. We have added some general updates regarding the credit card payment option in this area of the software. You will now be able to view the past credit card information just like in the reservation screens of the software. This feature of the software will also be included in our New E-Connect Product that is scheduled to be released in the beginning of 2014. E-Connect is designed to be used to help organizations to communicate with their members, guests, clients, leads, or any other large group of contacts.
Easy Setup page has been added to help new users get up and running with our software quickly and with fewer questions. It will also include picture requirements that will help you the user to upload an image that will load quickly for your guest when using Easy WebRez as either an online booking software or Content Management Software (CMS) for your website.
As we are completing the work and a few minor tweaks to the 8.3 release, we have already started the work for the 8.4 release that I'm expecting to see move live within the next 30 days. Here at GraceSoft, we strive to provide you with the best Property Management and Reservation software to help manage your Hotel, Motel, Guest House, Inn, B&B, Boutique Hotel, Spa Resort, Motel, or any other independent lodging property.