Easy InnKeeping For dorms & CREW quarters

Jerome
Managing beds and maintaining dorm occupant's details taking too much time? If it does, you might want to try this method where it wouldn't take more than a few clicks.

Despite being built for Hotels, Motels, Inns and B&Bs, Easy InnKeeping has also been serving Universities, Churches, seminaries and observatories worldwide to manage rooms, vacancies, housekeeping and guest records.


One of the key things the caretakers of these institutions look for is a simple, straightforward and reliable system that streamlines their room management.

Easy InnKeeping allows its users to enable or disable various functionalities of the software application to make the app a sleek and perfect fit for the workflow.

For instance, some institutions seldom charge the guest directly for accommodation, or payments are collected at a separate office. For a workflow like this, you disable the payment options and that way the software allows you to proceed without payment while making reservations and checking out guests. To present you a clearer picture, let me show you how the software works with a fictional scenario:

You take care of 10 dorm rooms with 4 beds each. At times, you have more guests for whom you may have to add a bed or two in each of these dorms. Let's say each can hold a maximum number of 6 beds. A quick Easy InnKeeping adaptation can be employed here, turning Room types into Rooms and Units into Beds. You can create 10 Room types (here: dorms) and six units under each of them.
Now, you have 10 dorms with 6 beds each. Under setup you can enable/disable units under each Room Type (dorm) as per your need. At the time of welcoming an occupant, click on the calendar and select the date for the bed you are allotting and enter the occupant's details. Voila! you are done checking in your guest.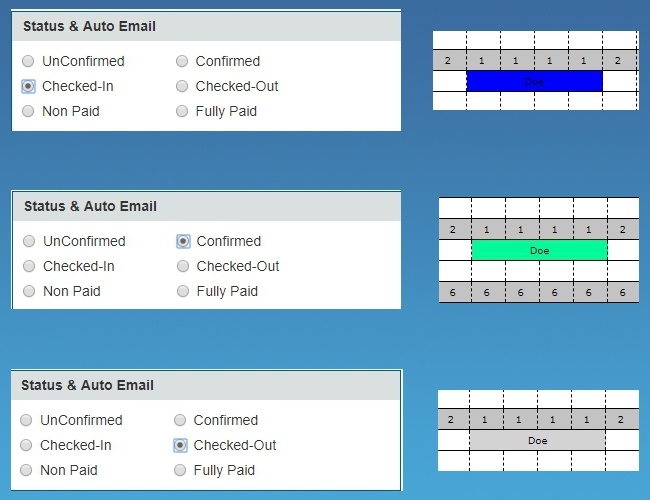 In addition to guest records, reports, and housekeeping management, Easy InnKeeping is also equipped with useful features like status color codes that can provide you real time status of occupancy for the whole month.