Hotel Reservation Software - Why go web-based?

Benjamin Deist
While it's staying power is a testament to the development and quality of the desktop version of Easy InnKeeping, technology and software development moves at a rapid pace. So it was no surprise that many users of Easy InnKeeping 3.2 or 4.0 discovered that their old software was not completely compatible with Microsoft's latest operating system, Windows 7. A big surprise though, to many of those customers when they called to find out about upgrading, was finding out that Easy InnKeeping is now in the cloud, aka web-based.
What are the advantages of upgrading from an old desk-top version to a web-based?
First and foremost, your data is secure. It is backed up regularly and is accessible from more than one computer. Grace Software, Inc. offers the web-based version of Easy InnKeeping hosted on its secure and reliable servers. You don't need to be concerned about the old software being incompatible with current operating systems. You also don't have to worry about losing your data when an old computer crashes and can't be revived. Benefits to the online Easy InnKeeping include remote access, easy maintenance, and monthly payment plans. Updates are automatically included, as they are released.
What's different about Easy InnKeeping as a cloud-based hotel management software?
In keeping up with client needs, there have been many new developments with the software since version 4.0. Menus and screens have been redesigned to be more user-friendly. The look of the Monthly Calendar has gone from this: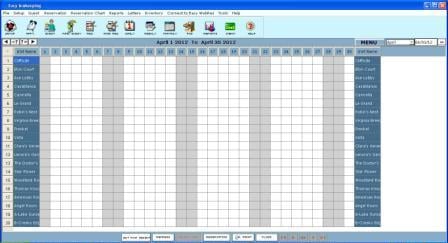 to this: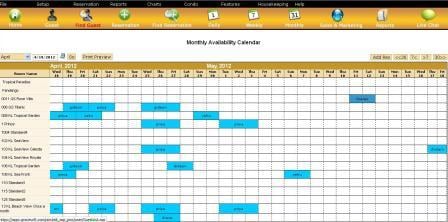 The process of entering guest and reservation information has been streamlined. Instead of entering guest information first, then creating a reservation for them, guest information is now saved directly from the reservation screens.
Perhaps even more exciting are the additional modules and features that have been added to Easy InnKeeping. What we call our Sales & Marketing module is actually a fully integrated CRM, or Customer Relationship Management system. The tools for email marketing are built-in. There's no need for a separate program or guest contact database like Constant Contact.
Other innovations since EIK 4.0 include the additions of more reports (many created specifically because of client requests), the Condo module for condo and vacation rental property management companies, and the GDS interface.
So why switch?
If your existing desktop version is still working, you're probably wondering why you should consider switching to the current web-based version. All I can say is that computers and technology have a shelf-life. For users of older versions of Easy InnKeeping, we can typically retrieve and transfer your data from a working computer with an internet connection to a new web-based Easy InnKeeping account. So don't wait until your old computer crashes, you get the blue screen of death, and your files and database are lost forever before you realize that upgrading to the newest version of Easy InnKeeping is what you really need to do.