CEO & Director New Business Development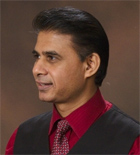 Gideon Stanley, CEO and founder of Grace Software, Inc. designed his first reservation system in 1993. Before starting the company, Gideon pursued an MBA in Software Design and rose quickly to a management position in one of the top ten software development companies.
Committed to providing "user friendly" applications, Gideon authors the Technology Trends column in the B&B Journal. Gideon Stanley enjoys engaging attendees and communicates with passion about the juncture between technology tools and management success.