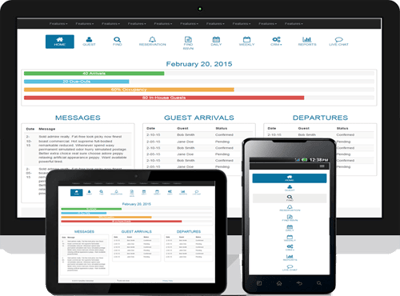 Reservation Software that's easy and affordable
This Web-based Hotel, Resort, B&B management software offers a simple easy to use system with online help, live chat and spontaneous screens, thus reducing the training time for your personnel. The product is made to fit the small to mid-sized properties. The pricing is includes live online training with one of our Gracesoft specialist to help you get up and running. For larger or specialty properties, we are available to arrange for on-site training sessions tailored to your property requirements.
Easy Property Management Software
Easy-InnKeeping web based property management software features a full set of financial, audit and management reports that are easy to understand and essential to running your business. Features include options to export data to an excel format, and customizable security levels for staff. We even have custom reports which are included in our base price!
Popular Features
- iPhone and smart phone access
- Fast and accurate reservation entry
- Calendar screens
- Extensive guest information
- Night audit & transaction reports
- Over 50 predefined reports
- Ability to create custom reports
- Multiple-rate setup for all types of rate structures
- Security module
- Online support and training
Optional Interfaces
- Card Swipe Module
- Credit Processing with Authorize.net
- GDS Module connecting you with travel agents worldwide
- Online Reservations with Easy WebRez – Web Site bookings
- Call Accounting
- Sales & Marketing Module
- Channel Management with Expedia, Booking.com, Trip Connect interfaces
- Key lock, Signature device, Card scanner interfaces.
Easy InnKeeping Hotel Software
Hotel Reservation software designed for hotels and motels, resorts and inns; emphasizing ease of use, reliability, pricing, and integration of all booking channels including GDS and online reservations. Yield management features that allow the hotel to increase or decrease the price based on occupancy automatically allows hotel owners to generate additional revenue and book rooms at the right price. Learn More..
Easy InnKeeping Condo Software
The Condo management software is made specifically for condos, resorts, apartments and service apartments. The software is designed to manage individually owned units either rented on a short term and/or long term basis (daily, weekly, monthly, or yearly). Condo owner reporting is optional through a secure login to allow owners to view their own statements and book their own units. Management commissions and owner revenues are automatically calculated at various percentages. Learn More..
Easy InnKeeping B&B Software
The B&B software is cost-effective and low-maintenance tool for managing reservations for small properties. The reservation system provides easy access from remote locations and a real-time online reservation system for web site bookings. Since this is web based it can be used by the Innkeeper from anywhere using a computer, tablet or even your mobile phone. Learn More..
Easy Innkeeping Property Management Software
For a large property, or a chain / group of properties that requires advanced custom settings or remote access to multiple properties. This property management system is designed and developed for hotels, motels, resorts, campgrounds, condominiums, timeshare and resorts. Easy InnKeeping™ property management software has single-image inventory and operates traditional PMS functions from one central database. Contact us to discuss your property requirements.Learn More..