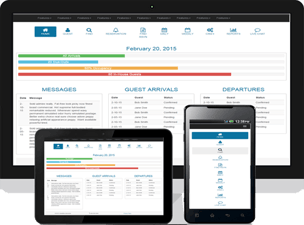 Now compatible with iPad and mobile devices
Join the Cloud" today with Easy InnKeeping Hotel Reservation and Hotel Management Software; emphasizing ease of use, reliability, pricing, and guest communication.
In addition to property and reservation management, Easy InnKeeping offers modules for
- Online Reservations (Reservation Software)
- Auto Email (email and newsletter marketing)
- GDS (Global Distribution System)
- E-Connect (Customer Relation Management)
Powerful, Robust, Easy to Learn and Easy to Use
Since 1999, Easy InnKeeping has been the ideal choice for managing B&B's, Condos, Hotels, Inns, Motels, Resorts and Vacation Properties of all types. Rated, "Easy to Use" by InnSights magazine.